We bring the party to you!
Are you looking for kids birthday party ideas? Or maybe a fun event for a get together with friends, or an activity for a religious or civic group? Artists at Heart will put the ART in your PARTY!
Parties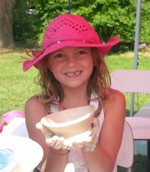 Fun for all ages, and perfect for birthdays! We custom design your event to fit your group. Choose from jewelry, air-dry clay, or real clay. We promise that your guests will have fun, and get creative.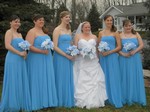 Have a wonderful, memorable event with your bridal party, making beautiful jewelry to wear at the wedding, or Artists at Heart will custom make the jewelry for your bridal party.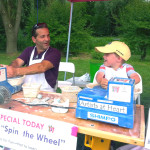 Hosting a special event and looking for some fun activities to make the occasion memorable? Artists At Heart can help! We can offer a variety of fun, creative and memorable activities for family gatherings, stay-cation activities, home-schoolers, women's groups and church groups.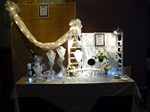 Make a great impression as you raise awareness and money for your cause. We are happy to provide our art parties parties as an opportunity to fund raise for your group.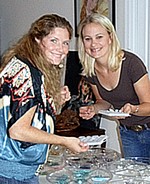 Want a fresh idea for a get together with friends? Tired of the high-pressure sales parties where you are guilted into buying things you don't want or need? Try something different – invite your friends to a Make-Your-Own Art Party.
Classes and Workshops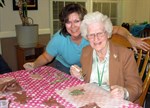 An Artists At Heart event provides a fun and memorable activity for your group! We can provide a one-time activity or multi-session program or classes. Perfect for Home-schoolers, Women's Groups and Church Groups. Artists at Heart offers discounts for civic and church groups.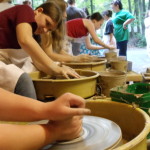 Artists at Heart offers special programs for Scouts and Seniors. From Daisys to Eagle Scouts, Artists At Heart will design an art program that is both fun and educational. We can tailor activities to meet badge requirements. For Seniors, we have a wide variety of activities to choose from, and are happy to create new projects for your event.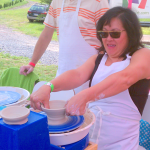 Artists at Heart can come and spend a day or half a day with your team, in a fun and engaging process that will allow your team to improve communication, trust, and managing conflict. Contact us today for more information.
Bring your daughter or friend, or come and meet new friends! Bead with Us! offers a fun, informal atmosphere where you can be as creative as you want! We have a wonderful selection of beads to choose from and are happy to provide as much help as you want.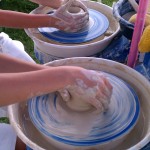 Try your hands in clay! See how much fun it can be, and what wondrous things you can create. Enjoy a private pottery lesson with guided one-on-one instruction.
Artists At Heart Serves the Greater Lehigh Valley Area.
We also travel to the Poconos, Philadelphia, New Jersey, and Reading/Berks.  Travel fees apply to areas outside the Lehigh Valley.
Let us create a fun party that everyone will enjoy! Hear what our customers have to say about us.