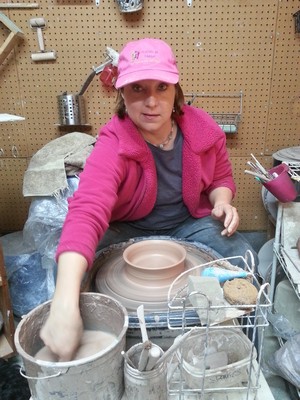 "Despite a lack of natural ability, I did have the one element necessary to all early creativity: naïveté, that fabulous quality that keeps you from knowing just how unsuited you are for what you are about to do." ― Steve Martin, Born Standing Up: A Comic's Life V
Virginia Ellen began playing with clay in the early 1990's, with help from a fantastic local potter, Lisa Caruso. She continued practicing, on and off, until she finally built her own studio in 2009.  In 2011, Virginia and her mother, Mary, and friend Patty Passick began talking about creating an art party business.  Mary and Virginia formed a legal partnership and Patty helped design the logo.  
With the start of Artists At Heart, Virginia began selling her pottery and teaching basic throwing and hand building. You can see what Virginia is working on at her blog, ClayNotes.
In addition to fun pottery parties and pottery wheel rentals, Virginia offers private lessons in her studio. She may also be available to come to your location to give lessons.
Artists At Heart offers some items for sale on Etsy and Square.. You can also see some of Virginia Ellen's work on SmugMug..
Artist's Statement:
As a potter, I love to create functional stoneware pieces that can be enjoyed by all who use them.  I began playing with clay in my early twenties when I happened upon a newspaper ad for local pottery lessons.  With absolutely no talent for drawing or painting, I didn't have much expectation, but I fell in love with clay.
One of the things I love most about it is the endless possibilities that clay has to offer.  Being a potter is a never ending learning experience – whether it is working with new glazes or mastering a new throwing technique.  Being a potter fulfills my love for learning new things every day.  I also love to share the fun with others through teaching and offering pottery making parties.
Currently I am focused on functional dining, drinking and serving ware and am adding more cookware and also experimenting with colored clays.  I hope that some of the joy I feel when creating pottery is shared by people who use it.