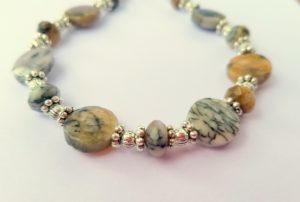 Black Moss Opal is a milky-white to brown stone with dark green dendritic inclusions that resemble moss. The term "dendritic" is derived from the Greek word for "tree" – "dendron".  This stone was mined in Australia.
A stone of great beauty and power, black moss opal contributes many beneficial qualities to its wearer.
Moss agate has been dubbed "the gardener's stone".  As such it encourages spring planting and is, in general, beneficial to nature, the earth and agriculture.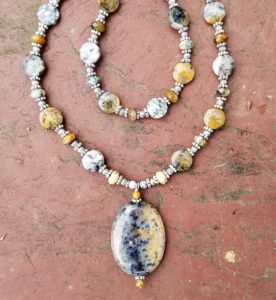 Just as spring symbolizes rebirth and new beginnings, black moss opal encourages "out with the old, and in with the new"  both physically and mentally.  As an encouraging stone, it fosters self-esteem and confidence.   It increases optimism and gives a welcome release from negativity. With new positivism come success and increased wealth.
Physically black moss opal is said to help to control symptoms of addictive behavior.  It is a boon in recovery from illness and injury.  It is said to help to deal with Alzheimer's disease, childbirth, and problems of the digestive system.  It seems to have a mysterious ability as an anti-inflammatory when worn for extended periods.
A great stone for any season, black moss opal will be a beautiful and comforting addition to your wardrobe as part of an ensemble or all by itself.