Christmas City Village – Bethlehem PA
Christmas City Village, an authentic German Weihnachtsmarkt, will be opening soon!  Located in the heart of Historic Downtown Bethlehem, these charming wooden huts are decorated for the holidays and filled with unique holiday gift and treats.
The Christmas City Village Weihnachtsmarkt is nestled in the beautiful downtown Bethlehem featuring unique retail shops, gourmet restaurants, historic Moravian museums, and plenty of parking in two large decks that are all within walking distance.
Christmas City Village is free – come and wander through the festive booths and shop for gifts with many locally made crafts.
Be sure to stop in to see the latest jewelry, pottery and wood creations at the Artists At Heart booth and pick up some tasty dips at Party In A Bowl.  You won't want to miss the kiffles at BabaNona – they are delicious!  You can also pick up a treat for your canine friends at Whisker Biscuits.
Some other reasons to  visit include romantic horse-drawn carriage rides through historic Bethlehem, visiting the beautiful Moravian church, and experiencing the Live Nativity.  As an added plus, Downtown Bethlehem boasts a plethora of great places to dine or just stop for a bite.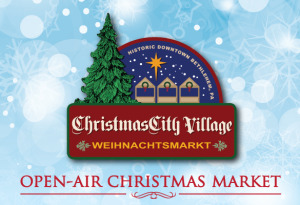 2016 Christmas City Village Schedule:
Opens Friday, November 19th
Fridays and Saturdays 11am-8pm, Sundays 11am-5pm
November 18, 19, 20
November 25, 26, 27
December 2, 3, 4
December 9, 10, 11
December 16, 17, 18