In case you misplaced your copy, or didn't receive one, here are our garlic grater instructions with some ideas for how you might use your grater.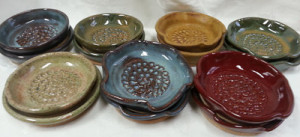 This simple to use, hand-made dish offers a more efficient way to puree and grate foods like garlic in order to preserve flavor, use more of the food, and finish the job in less time. Just a few swirls around the plate reduce a clove of garlic to a flavorful paste perfect for dips, sauces, or your favorite recipes. The bumps in the center of the plate enable grating food and keeping your fingers safe at the same time. It works even with hard foods like chocolate and ginger that are normally tough to grate.. This tool makes grating a variety of foods easy and allows you to produce professional quality results with very little effort.
You can also use it to zest lemons and oranges, grind cinnamon and chocolate, or puree fresh ginger. It is simple to use. You can move in circles, up and down, or even side to side. Because the plate has some depth to it, you can also use it as a dipping plate. Grate garlic and then add some olive oil and other spices for a delicious way to enjoy fresh bread.
Garlic:  Moisten grater with cold water. Hold grater in one hand with your fingers around the edges. With your other hand hold the clove of garlic between your fingers (hold the base/root end). · Move garlic in any direction until near fingers. (Discard root end as it's too acidic to eat). You have just made the finest garlic paste with much more intense flavor than minced garlic. Use a small, stiff brush to clean garlic out of ridges. Or leave garlic and add oil, spices and vinegar for dipping.
Other Root Vegetables: · Always moisten plate first for ginger, carrots, wasabi, taro, Jalapeños, horseradish, etc. For fibrous foods like ginger, move only back and forth directions. Use a brush to remove the pulp.
Hard Cheese, Spices, and Fine Chocolates: · Start with a dry dish. Hold the grater vertically over the dish or recipe, and move food over the grater until you have desired amount. Gravity will drop grated food down.
Dishwasher, microwave and oven safe—Made in Pennsylvania